Description
3M 8991 Polyester Tape, Blue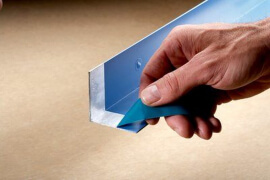 3M 8991 Polyester Tape, Blue is a polyester tape with silicone adhesive. There is a wide variety of applications related to high temperature resistance, including masking in powder coating.
3M Polyester Tape 8991 offers excellent heat resistance up to 204ºC, also abrasion, and chemical resistance while maintaining their fexibility.. The blue color makes it noticeable for both application and removal. Thin backing leaves a sharp paint line and some conformability.
Silicone adhesives have high heat resistance compared to many rubber and acrylic adhesives. It also reduces damage caused by softened adhesive. Silicone adhesive provides clean removal from a variety of surfaces.
Withstands temperatures up to 201 ° C
Excellent flexibility
provides clean removal
Masking for powdercoat painting
Instant adhesion
Chemical resistance