Description
Set of 3M Scotchcal Tool Bag + accessories for applicators
The 3M Scothcal Tool Bag is a practical tool bag with many compartments. In it you can store all the necessary tools for installation, dismantling of self-adhesive film, double-sided tapes or other activities. Made of durable material that does not rub off due to use.
The OLFA SAC-1 is a mockup knife specialized for precise and detailed cutting of design projects, drawings, collages and more. The SAC-1 cutter blade is designed at a 30-degree angle to perfectly cut all details. The OLFA SAC-1 mock-up knife is made entirely of metal, which makes it strong and very resistant to pressure. This OLFA knife is mainly used to cut paper, cardboard, film, etc. The OLFA SAC-1 has a locking mechanism that locks the cutting blade on both sides.
OLFA SAB – spare cutters for OLFA model knives – 10 pieces.
3M PA1-B blue applicator made of special nylon with high wear resistance. Of the 3M range of adhesive film applicators, the blue spatula is the "softest" and is recommended for bonding textured film such as carbon.
3M PA1-G gold applicator, made of wear-resistant nylon, whose structure allows smooth and trouble-free sliding on almost any surface. Thanks to the flexible and smooth surface, it protects the applied details from scratches.
3M Scotchcal Tool Bag advantages:
practical compact design
easy tools access
made of durable material
comfortable to carry on one shoulder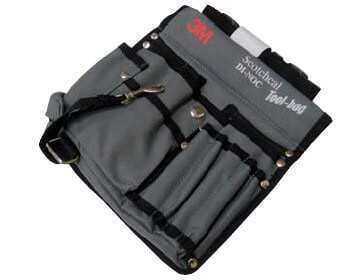 3M PA1-B и 3M PA1-G Applications:
cast film
calendered film
window film full
digital printed film
others with or without application tape