Description
3M 755 Hybrid Sealant bonds different materials and seals. Widely used in many industries – refrigerated trailers, truck bodies,
shipbuilding, air conditioning, and ventilation units. 3M 755 Hybrid Adhesive is a single component elastomeric sealant without isocyanates curingе. It allows you to have strong bond on materials such as: plastics, metal, fiberglass, ceramic, wood, and others. Can be painted over even before it has dried. This speeds up the working process.
3M 755 Hybrid Sealant is resistant to UV rays and environmental exposure. Skin formation time is between 40-70 minutes. Full cure happens in 24 hours.
Applications of 3M 755 Hybrid Sealant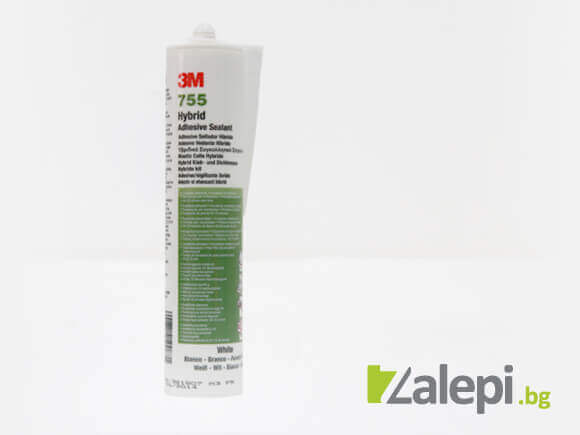 Widely used in many industries.
automotive graphics and applications

vehicle strips
advertising signage – signs and channel letters
industrial applications
Advantages of 3M 755 Hybrid Sealant
UV resistant

can be painted while still wet
perfect bonding
can be applied over many surfaces
resist environmental exposure
Bonding technique of 3M 755 Hybrid Sealant
Do not apply at a temperature under 5°C. Do not apply over silicone or polyurethane.
Clean and dry the surfaces prior applying the 3M 755 Hybrid Sealant. You must remove the following stains from the surface: grease, mold, oil, water, etc.. Application temperature is between +5°C to +35°C.