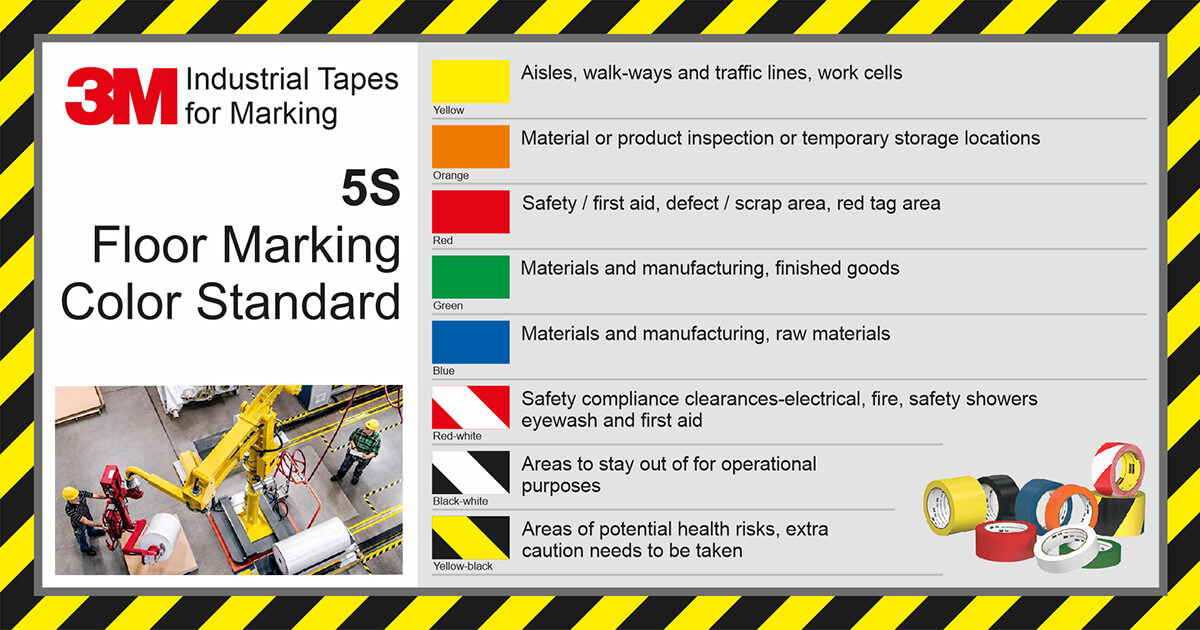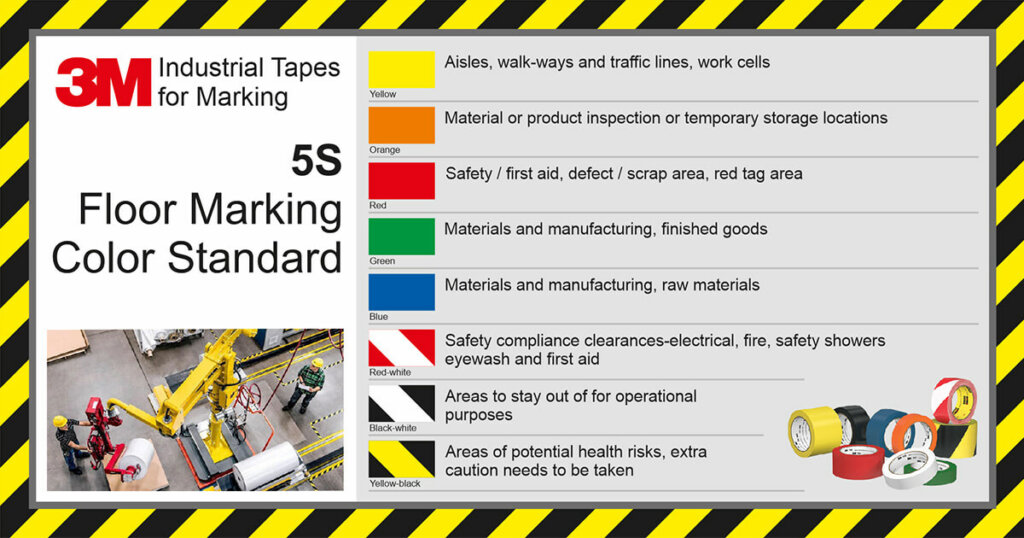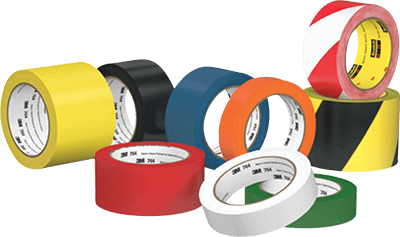 Industrial Marking Tapes
Whatever industrial marking you need – on a wall, pipes or loading area, 3M can offer the right marking tape. The product range of specialized safety floor tape and walls contains tapes with different stability, flexibility and adaptability to improve visibility and safety in the working environment of factories, warehouses, hospitals and public places, gyms and more.
Types of 3M marking tapes for industrial marking
Depending on the requirements for strength, durability, and price, 3M offers several series of floor marking tapes. From those that can easily move forklifts, trucks, and heavy trailers to more budget for rooms where only people work. All colors and patterns are in accordance with the requirements of the methodology 5S system for the organization of the work process.
For the busiest traffic areas – 3M Ultra Durable Marking Tape 971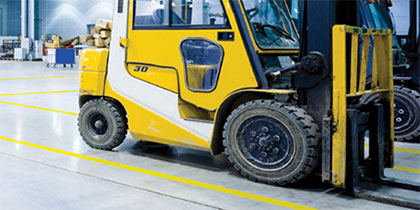 3M Ultra Durable Floor Marking Tape 971 – heavy-duty floor marking tape that is super strong and durable. It is specially designed to meet the needs of applications with high loads and heavy traffic. With extremely high bond strength and scratch resistance. No detachment, even when moving forklifts, trucks, or even trucks. The unique technology of PLA (Polylactic Acid), on which the tape is made, provides very high wear resistance.
The tape has excellent resistance to most acids and solvents.
In addition to its exceptional strength, 3M Ultra Durable 971 is created on an environmentally friendly plant basis, without wasting natural fuels, and meets the green standards required by more and more companies.
The tape is produced in 6 main colors – red, white, blue, green, yellow and orange.
3M Vinyl Tape 471 – Industrial Marking for Clear Visibility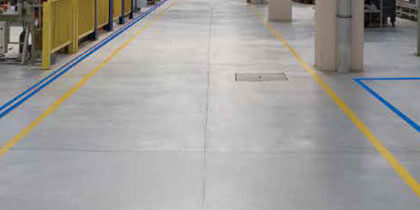 3M Vinyl Tape 471 is a series of PVC floor marking tapes for clear visibility in the work environment. Extremely suitable for areas with moderate traffic, which are used daily (which do not include heavy machinery).
3M Vinyl Tape 471 is a strong and highly resistant masking tape that adapts to bumps, complex shapes, and roughness. Due to its high extensibility, the tape can be easily used to mark strongly curved lines without tearing or peeling off the edges.
Colored tapes for industrial marking retain their bright colors over time, even when exposed to abrasion, wear, and many solvents.
The tape is produced in 7 main colors – black, white, red, blue, green, yellow, and orange.
3M Safety Stripe Tape 5702 – floor marking of dangerous areas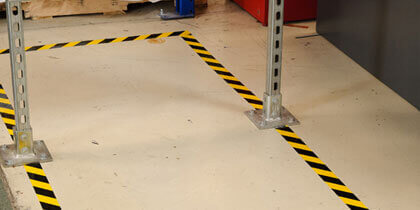 3M Safety Stripe Tape 5702 is a yellow-black marking tape designed for the clear and visible marking of hazards in halls, factories, gyms, public places, and more. The yellow-black marking tape is suitable for marking paths for walking and machines, hanging and protruding equipment, areas with increased risk of injury.
The 3M Safety Stripe Tape 5702 floor marking tape has very good scratch resistance rubbing and solvent treatment. The special PVC technology makes them extremely durable colors for long-term use. This is one of the most popular types used in all kinds of productions, warehouses, and shops.
3M General Purpose Vinyl Tape 764 – Economical version of hazard marking tapes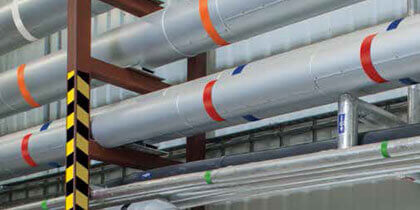 The 3M General Purpose Vinyl Tape 764 floor marking strip is a cost-effective marking strip that can be used for color-coding or warning marking in places with a light load and for short-term use.
The flexible and easily adaptable to curves floor marking tape allows application on pipes, walls, and areas around equipment for various industries. 3M General Purpose Vinyl Tape 764 is produced in 10 basic colors – black, white, yellow, green, blue, red, orange-brown, gray, transparent.
3M Safety Stripe Vinyl Tape 766 and 3M Hazard Marking Tapes 767 – Affordable floor marking tapes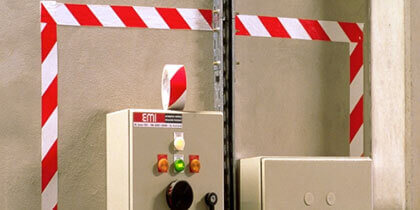 3M Safety Stripe Vinyl Tape 766 and 3M Hazard Marking Tapes 767 are an alternative to 3M Safety Stripe Tape 5700/5702 – lower price range and for short-term use. Again based on wear-resistant PVC, they are suitable for color marking in industrial plants, halls, gyms, hospitals, and other public places.
These two-color signal marking tapes mark risk areas for injury prevention during the work process. 3M Safety Stripe Vinyl Tape 766 is yellow-black and 3M Hazard Marking Tapes 767 is red-white marking tape.
These marking strips are ideal for marking walls, pipes, and alleys with low pedestrian traffic.
Why use industrial marking tape instead of paint?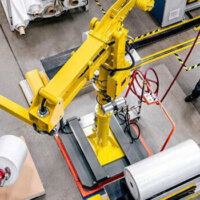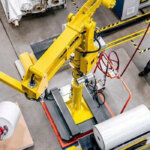 ✓ All floor measuring tapes are easy to remove when rearranging the workspace;
✓ They do not smell or stain when painted;
✓ Straight and curved lines are easily marked;
✓ They are installed quickly and save on additional labor costs;
✓ No need to wait for it to dry, extremely important for busy areas;
✓ Very easy removal when needed;
✓ There are no harmful chemicals and they can be installed in the presence of people in the room.
What do the different colors of floor marking tapes mean?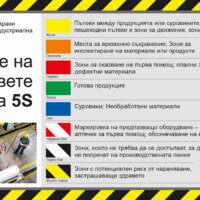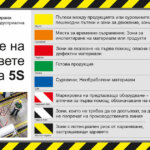 yellow – paths between production or raw materials, footpaths, and traffic areas, work areas
orange – places for temporary storage, areas for inspection of materials or products
red – first aid areas, dangerous areas, defective materials
green – finished products
blue – raw materials
red and white – marking of protective equipment – fire extinguishers, showers, first aid kits, marking of electrical panels
black and white – areas that should not be accessible so as not to obstruct the production line
yellow-black – areas with the potential risk of injury, endangering the health
How fast do industrial marking tapes wear out?
Depending on the load of the room, you can choose 3M strips for floor marking with different strengths and durability. If trucks, forklifts, and other vehicles pass by every day, we recommend 3M Ultra Durable Marking Tape 971, 3M Vinyl Tape 471, and 3M Safety Stripe Tape 5702 are suitable for less busy rooms, and for places with low load (mostly people) wall marking we recommend the budget 3M Hazard Marking Tapes 764, 766 and 767.
Example of a marking scheme in a warehouse with 3M marking tapes