Description
3M Scotch-Weld Low Odor Acrylic Adhesive DP8810NS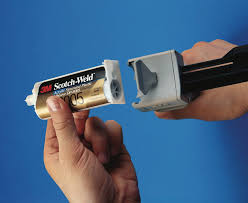 3M Scotch-Weld Low Odor Acrylic Adhesive DP8810NS is a green two-component acrylic adhesive with a light, unobtrusive odor. An ideal choice for a wide variety of industrial and commercial applications, as it reaches structural strength twice as fast as most other competing acrylic adhesives.
Acrylic adhesive with a 10:1 mix ratio. Once fully cured, this adhesive will reach 1,000 psi (7 MPa), which is half the time of such adhesives, increasing productivity.
3M Scotch-Weld DP8810NS contributes to a safer working environment compared to typical acrylic adhesives. The added properties ensure that the adhesive is applied exactly where you want it and will not migrate during the application or gluing process. And the 12-month room temperature shelf life of the product simplifies inventory management. Acrylic glues have several features that make them easier to use, including a much faster cure speed, higher tolerance for oily or unprepared bonding surfaces and the ability to bond.

Recommended Applications:
Metalworking such as HVAC, appliance, sporting goods, and specialty vehicles
Sign manufacturing such as panel to frame bonding, trim attachment, letter bonding, and frame assembly
Bonding plastics, composites and powder coats to metal
10 minute work life
low odor
20 minutes to reach final structural strength
Non flammable safe product
High strength with minimal surface prep
Features spacer beads to control bond line thickness
12 months shelf life after opening