Description
3M Metalised Conspicuity Vehicle Marking 943-72 Red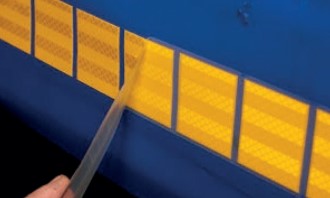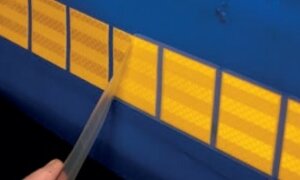 Fewer accidents mean less downtime, less contracts missed and savings on repair costs. Improve corporate image through being more proactive about safety.
3M™ Metalised Conspicuity Markings Series 943 is designed for application to rigid sided vehicles for increased visibility. 3M Reflective tapes for vehicles Series 943 is a single-layer self-adhesive tape with high photometric power, for the delineation of the overall dimensions of vehicles with surface rigid. Provides excellent reflectivity and brightness.
Easy to apply, resistant to delamination and discoloration, it maintains its characteristics for up to 5 years, even in conditions adverse environmental conditions.
3M offers a range of homologated retroreflective marking tapes that carry the compulsory "E-mark" and meet all the ECE104 Regulations. All of the marking tapes are classified as C-class, meaning they are the brightest markings permitted by the regulations.
Superior day and nighttime brightness
Retains reflectivity when it rains
Reduces accidents and repair costs
PVC free and Solvent free adhesive technology
Easy to remove liner
Pressure sensitive adhesive
UN-ECE104 Class C approved
Durability up to 5 years, even in adverse conditions
Improve corporate image through being more proactive about safety