Description
Liquid for film removal 3M Graphic Remover
Liquid for adhesive and film removal. Perfect for cleaning different surfaces. 3M Graphic Remover is recommended for cleaning advertisement installation such as signs, totems, channel letters, vehicles, windows, vinyl, and others. Removes all types of 3M PVC films. Manufactured in easy-to-use bottle. Perfect substitute of all traditional and commonly used cleaning chemicals.
Required equipment: masking tape, paper towels, paint roller, plastic applicator, and rivet brush.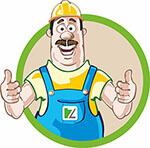 ---
See also liquid for adhesive removal 3M Adhesive Remover.
Learn more about 3M Aerosols and Adhesives on 3M's website.
---
Advantages of the 3M Graphic Remover
easy-to-use
perfectly cleaned surface
economical
does not leave stains
How to use 3M Graphic Remover
USER GUIDE:
Clean the surface with detergent and water. Dry the surface before you continue. Place masking tape on the spots that you want to remain clean. The temperature must be at least 10° С, in cases where it is 29° С remove the action in a shaded spot. Thoroughly coat the surface with 3M Graphic Remover on the surface and wait for 15-30 minutes to dry. Remove the film or the adhesive with the help of a rivet brush. Wash the surface with detergent and water.
You can use isopropyl alcohol for perfect cleaning of the surfaces.