Description
3M 7955 MPL double sided adhesive sheets for long-term bonding of detatails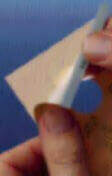 3M 7955 MPL is a strong acrylic adhesive located between two siliconized liners. Its thickness is guaranteed over the entire bonding area. 3M 7955 MPL sheets adhere a variety of materials and provides a flexible bond with high strength, thanks to its highly aggressive acrylic adhesive.
Because 3M 7955 MPL is formed as adhesive sheets, it is easy to cut out by the size of the items. It absorbs the expansions of the dissimilar structure surfaces and does not change the bond strength. Double sided sheets 7955 MPL there are no carrier (only adhesive layer) so they are perfect for bonding channel letters type "sandwich" and other multilayer materials.
Bonding scheme of Embossed channel letters type "sandwich"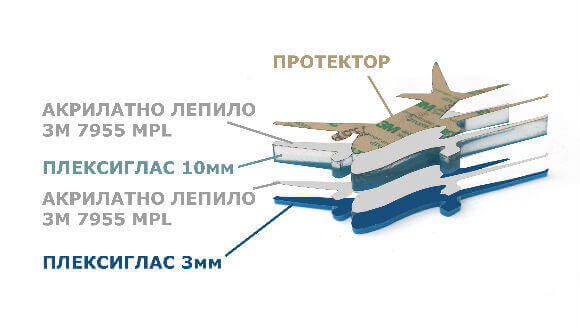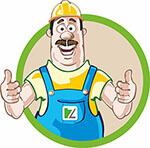 ---
See also 3M 7945 MP.
Learn more about 3M Adhesive Transfer Tapes on 3M website.
---
3M Double Sided adhesive sheets 7955 - 200MP are ideal for connecting channel letters, bonding LED strips and mounting advertising signs on walls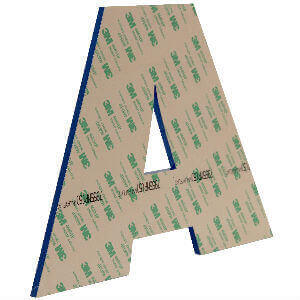 Transforming each product self-adhesive no matter kind of material, is the main advantage of 3M 7955 MPL double sided adhesive sheets. Adhesive sheets are specialized for bonding medium or high surface energy materials as plastics, metals, polyester, polycarbonate, ABS and so on. 3M 7955 MPL double sided adhesive sheets has clear adhesive 200MP that provides excellent stability in contact with moisture – no folding, even in process of die-cutting.
Double sided adhesive 7955 MPL resists some chemicals for impermeable materials. These chemicals do not soften the adhesive bond: weak acids, bases, oils, gasoline, kerosene, JP-4 fuel and many other solvents.
Double sided adhesive sheets are UV and high temperatures resistant. They are very easy to cut with scissors and snap-off blades knives, also they are perfect for die-cutting and laser cutting.
polyester
ABS
many other materials
Advantages of 3M 7955 MPL double sided adhesive sheets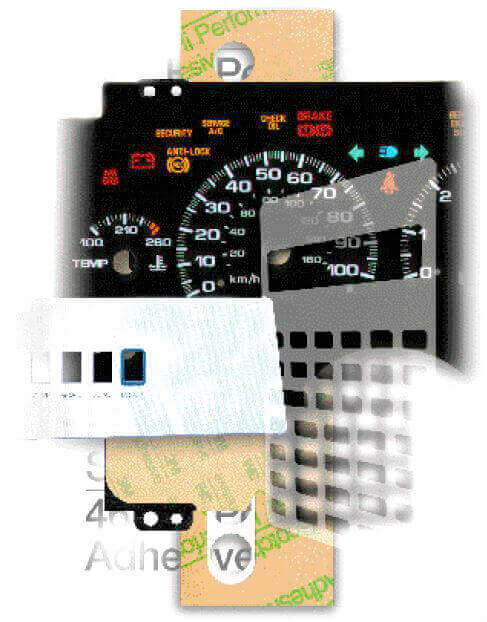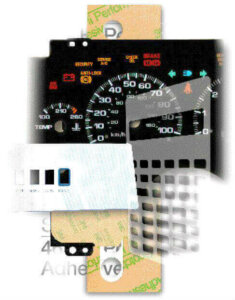 They guarantee a smooth look of graphic layers which make these sheets widely used in electronics. Due to its high adhesion strength, the double-sided advesive sheets 7955 MPL withstand constant loading and recurring pressure. These 3M self-adhesive sheets are perfect for
machine control displays, mobile phones, flexible circuits
or as
membrane separators.
7955 MPL adhesive sheets can be used for bonding graphic overlays for membrane switches in many household appliances.
Graphic nameplates and overlay to metal and high surface energy plastics
Bonding graphic overlays for membrane switches
and for bonding the complete switch to the equipment surface
Flexible circuits, medical components, durable labels
Lamination to industrial foams for rotary die-cutting of small gasket
Bonding channel letters
Bonding LED strips and modules
Other applications
Advantages of double sided adhesive sheets 3M 7955 MPL
long-term pressure strength
wide range temperature resistance
UV resistance
Non-folding moisture resistance
Smooth looking graphics
Chemically resistance
No extensions
For maximum traction of the bonded surfaces they must be well cleaned and dried. To achieve perfect results use isopropyl alcohol or heptane for cleaning the surfaces. Join materials in temperatures between 21°C and 38°C to recieve optimal strength of the adhesive bond. It is not recommended to use double sided adhesive sheets below 10 ° C because the adhesive stays hard and has no good bond contact with the surfaces.