Description
3M Primer 94 is widely used as a base for high strength bonding of self-adhesive films (even automotive) and double-sided tapes to different materials: acrylic, wood, glass, metal, painted metal surfaces. Sometimes Primer 94 is the only solution for low surface energy materials as polyethylene, polypropylene, ABS, stainless steel. It dramatically increases bonding strength and durability of all self-adhesive materials.
3M Primer 94 is actually a highly aggressive adhesive in liquid form, which is absorbed in the micro pores of the material. Actually, it increases the contact area from 5 to 50 times, depending on the type of surface. Primer 94 increases the adhesion of all double-sided tapes, one-sided tapes, graphic and vinyl films.
It is used for mounting details (including automotive) where is needed an additional strength of adhesion. Using of Primer 94 is recommended for deep curves – 3D curvatures, concave or protruding parts, in order to promote adhesion of car film to the paint.
It can be applied with brush, a small piece of cloth or a special primer pen. At this area, where is applied primer, the bond between film ans the surface is very strong and difficult to peel off.
Pay attention to: 3M Primer 94 decreases the repositionability of self-adhesive films on the initial contact to car paint.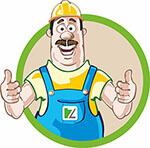 ---
See also 3M Primer 94 Pen.
Learn more about 3M Tape Primer 94 on 3M website.
---
Applications of 3M Primer 94
Use 3M Primer 94 in all cases where in needed strong and durable bonding.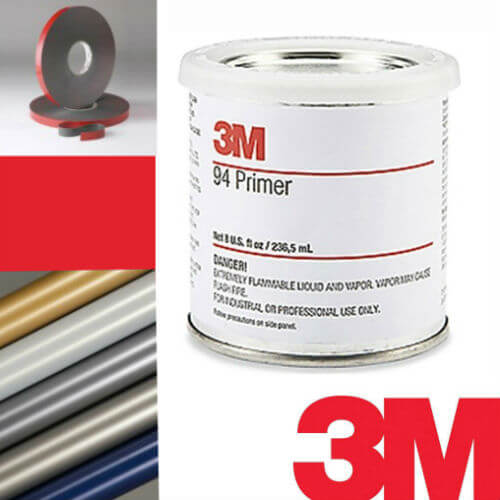 Primer 94 can be applied to dissimilar materials and it is widely used as a base in all industries. It is especially designed for high strength bonding of double-sided tapes and self-adhesive films.
automotive graphics and detailing

car side moldings
signs and channel letters
industrial applications
Advantages of 3M Primer 94
easy to apply
a perfect base for vinyl films wrapping
high strength bonding
fast action
How to apply 3M Primer 94?
The bonding surface must be relatively cleaned with a 50/50 Isopropyl Alcohol and water mixture. After that you must dry the surfaces using a clean cloth.
1. Shake 3M Primer 94 well before using
2. Apply a thin uniform coating to the bonding surface using the minimum amount of primer.
3. Allow 3M Primer 94 to dry before applying tape or film. This is usually accomplished in 5 minutes at room temperature.Thicker double-sided tapes can be bonded even if the surface is still wet.
4. Porous surfaces may require 2 applications of 3M Primer 94 for uniform coverage and good adhesion. Allow first application of primer to dry before applying the second coat.
Clean up spots of Primer 94: using special designed 3M aerosol adhesive remover.
See a short video how Chris Cookie from 3M Commercial Graphics Australia use 3M Primer 94: