Description
Multipurpose OLFA 180 Black Snap-off blade knife
OLFA 180 Black is the most popular snap-off blade knife of the standard OLFA knife series. With OLFA 180 Black you can cut the following materials with minimum efforts: paper, cardboard, nylon, film, stretch film, rubber, and others. Awarded in Japan for great design and is awarded by the Long Life Design Award.
The 180 black Snap-off blade knife is with comfortable, metal handle. Its compact size makes easy to transport while the auto-lock system assure its safety. With OLFA 180 Black you can regulate the cutting blade (extreme precision during cutting).
Applications of OLFA 180 Black
Snap-off OLFA 180 Black blade knife is recommended for:
paper
cardboard
film
nylon
rubber
others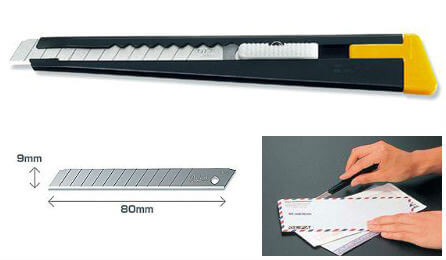 Advantages of OLFA 180 Black
steel handle
regulation of the blades
How to use OLFA 180 Black Snap-off blade knife
Prior cutting, make sure you have chosen the proper knife for the material.
Pull only one blade element for better safety during work.
It is highly recommended to cut under an angle in order not to damage the project.
Remove the old blades with the container or with pliers.
In order to prolong the life of the blades, it is recommended to use cutting mat.