Thermally conductive tapes with guaranteed quality
]3M 8810 double-sided thermally conductive tape is designed to assure heat transfer path between heat-generating components and heat sinks or other cooling devices aiming more efficiency.
The typical applications are:
cooling powerful LED modules
transistors
PCB elements
processors
other heat sources
3M 8810 thermally conductive tape has a complex structure – a combination of aggressive acrylic adhesive and rich thermally conductive ceramic micro-spheres, that allow you to have thermal permeability of 0.6 W/mK. 3M products, from the thermally conductive series, are easy-to-use, with no need for polymerization or mechanical fixation. The only thing necessary for reaching perfect fixation and thermal transfer is to assert pressure on the previously well-cleaned surfaces.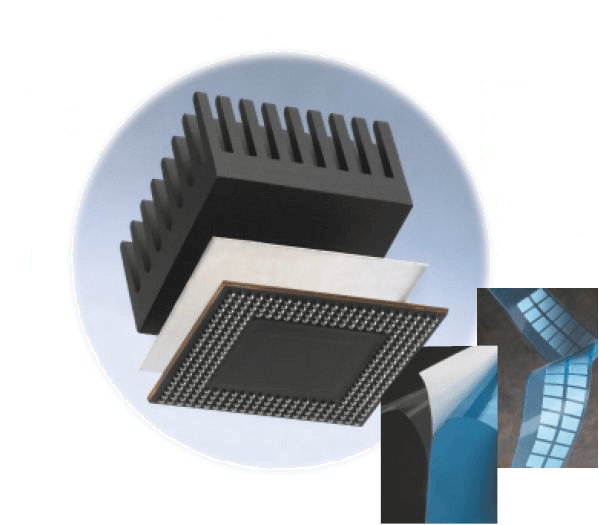 3M 8810 (and other double-sided thermally conductive tapes from this series) is an extremely flexible thermally conductive tape. This ability allows the tape to have good contact with many and different surfaces, including slightly textured surfaces. Guarantees strong bonding, good thermal transfer and electrical insulation. The double-sided tapes that transfer heat are widely used in electronics and LED lighting.
3M™ Thermally Conductive Adhesive Transfer Tapes successfully substitute fasteners such as silicone and screws, which are usually used in electronics for transferring transistors, radiators, and other components. These double-sided tapes provide strong bonding of the elements and assure their cooling.
The LED diodes are designed to save energy consumption. But the brighter they illuminate, the more they lose of their efficiency. That is when you apply the double-sided thermally conductive tapes by 3M, you create heat transfer between the heat source (in this case the LED diodes) and the radiator. These tapes can increase the efficiency of the LED diodes in different environments.
Special structure and double protector
This special structure – acrylic adhesive and conductive ceramic micro-spheres – on all 3M thermally conductive tapes allows them to have an excellent thermal resistance. For example, the 8810 tapes, that we mentioned above, is designed with a double liner/protector for easier application, cutting, or punching. This places them one step ahead of the other tapes on the market when bonding materials such as paper, cardboard, most plastics, metal, rubber, and many more.
Advantages of the double-sided thermally conductive tape 3M 8810:
Acrylic adhesive with thermally conductive ceramic micro-spheres;
Fast, easy, and efficient application, no need of any additional mechanical fixation;
Flexible construction of the tape allows maximum contact with the surface;
Combination of good thermal conductivity with good electrical insulation indicators.