Plastics are a large group of materials whose main component is synthetic or semi-synthetic organic polymers. They remain solid at room temperature. Polymers in plastics consist of large molecules that form linear, branched, and network-like chains that combine several thousand to millions of repeating monomer molecules.
An important property of different types of plastics is that their properties, such as ductility, hardness, elasticity, tensile strength, heat, and chemical resistance, vary widely depending on the raw materials, production technology, and additives included in their composition.
Their relatively easy processing allows them to produce objects of different shapes, as well as thin fibers or film.
When we talk about types of plastics, we usually use a term that covers most composite materials. A curious fact is that a very small proportion of plastics are based on petrochemicals, most of which are produced from renewable sources such as polyacrylic, which is extracted from corn and cotton.
1. PE Polyethylene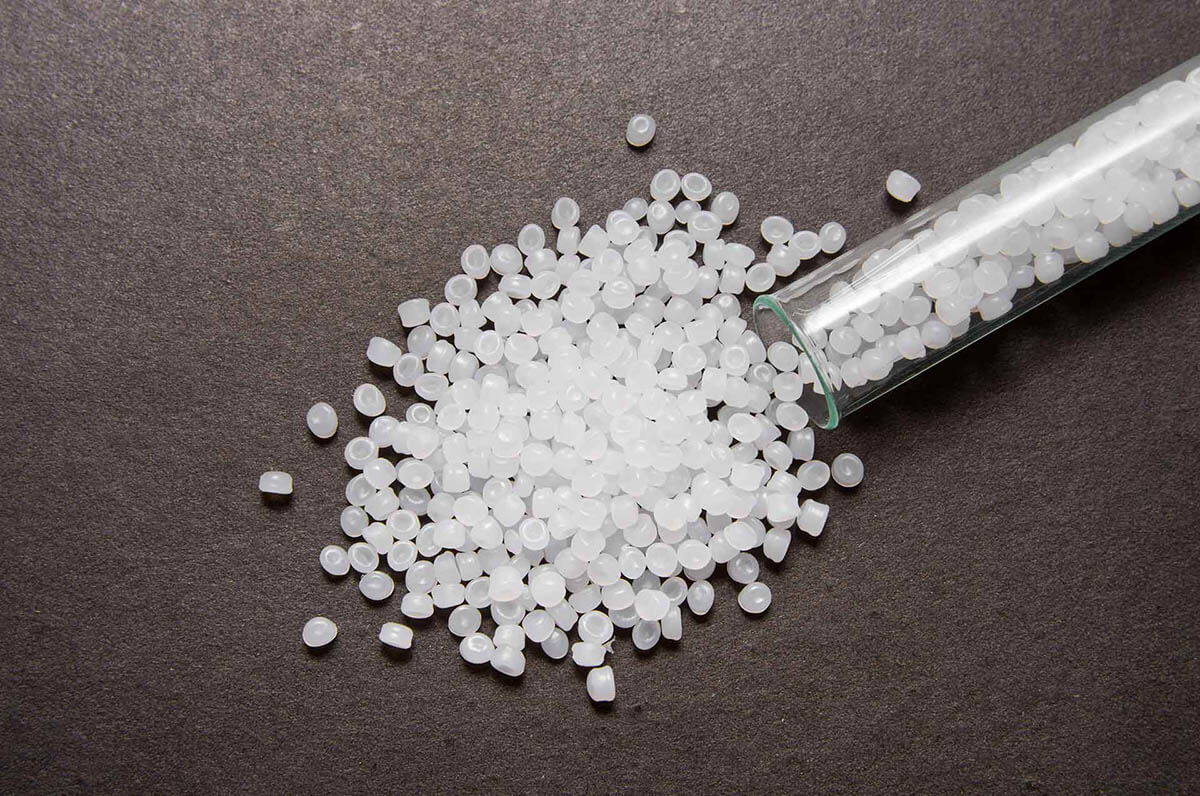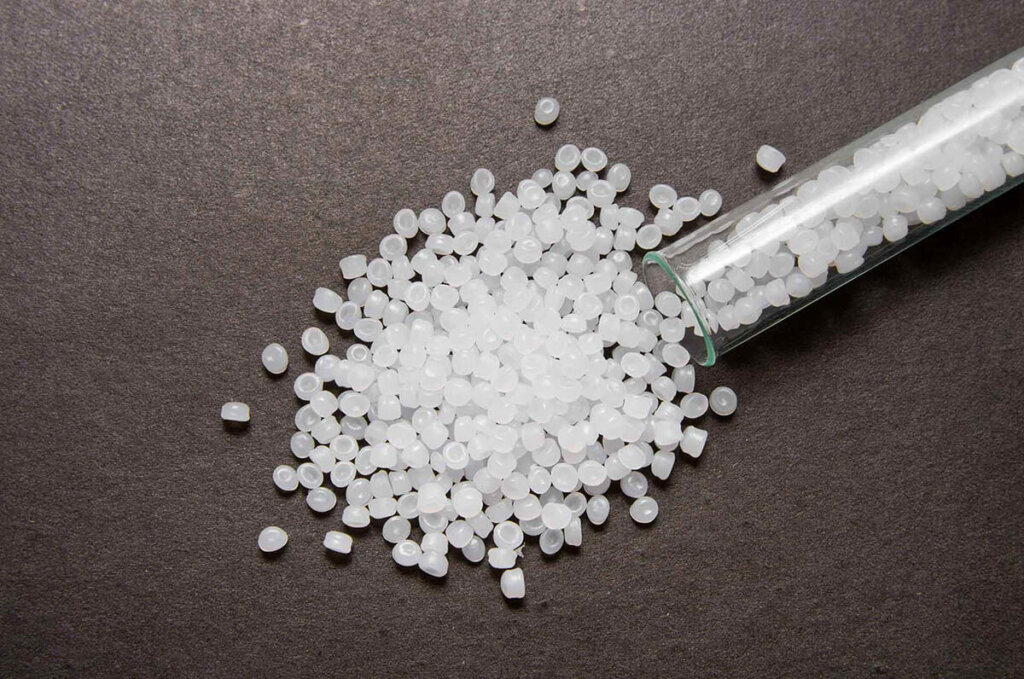 is a composite thermoplastic of polyethylene or ethylene. There are many types of polyethylene, but the most popular are – High-Density Polyethylene (HDPE) and multilayer elastic polyethylene (LLDPE). In both cases, the density is lower than 1 g / cm³, which means that they are carried on the surface of the water. It is bimodal and unimodal in the form of films, blow-molded parts, injection molded parts, or processed by other extrusion processes. Varieties of HDPE with UV-stabilization are available, as well as varieties certified according to UN standards for chemical containers formed by blow molding.
Polyethylene in the form of foil is very popular in Bulgaria named DuPont – nylon. However, this is not correct because DuPont uses the trade name nylon for polyamide.
It is widely used all around us – bags, transparent and opaque nylons for wrapping and protection. Thus, the well-known Stretch film is composed of multilayer elastic polyethylene (LLDPE), produced by cast technology.
Another well-known application of polyethylene is its expanded variety. Almost all pads for laminate, pipe insulation, and similar products are made of it.
2. PMMA Polymethyl methacrylate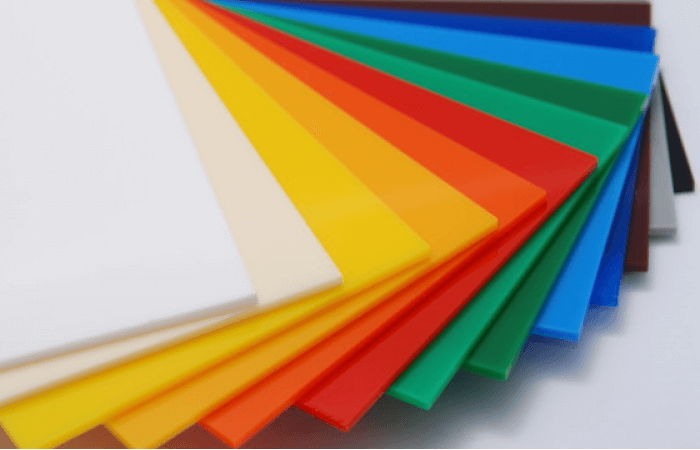 is a synthetic (acrylic) glass, also known as acrylic. A type of transparent plastic with a density of about 1.1 g / cm³ with better qualities than ordinary glass in every aspect, except for its temperature resistance, as it becomes elastic and flexible at temperatures of 200 ° C. Used as a substitute for glass. It is known worldwide for its trade name – Plexiglas, owned by one of the largest chemical concerns Rohm Haas (currently Evonik).
Its gluing with chloroform-based adhesives creates a very strong and lasting bond, as chloroform breaks down the polymer molecular chain and after its evaporation, it is restored. One of the most common applications of Plexiglas is in the advertising industry. containers and all similar acrylic products.
We see acrylic panels every day, even on the small screen – all glass tables and floors are made of extremely strong Plexiglas. Due to its strength in large obese people, it is also used by the military.
3. PVC Polyvinyl chloride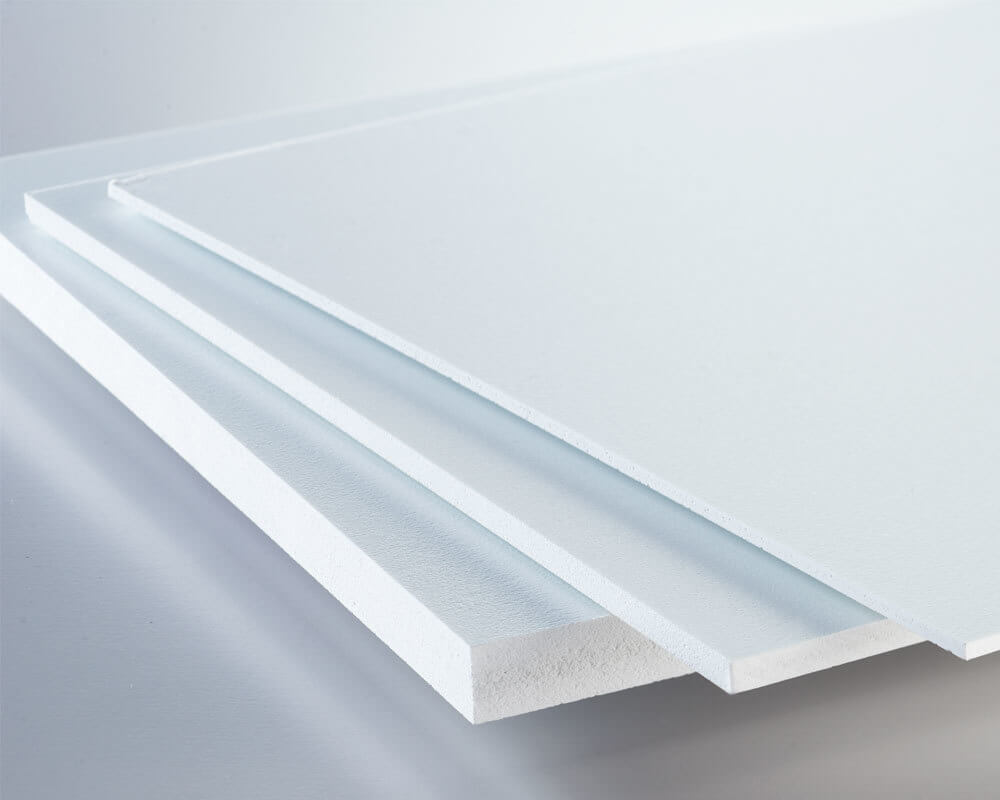 is a hard plastic that is usually mixed with softer materials. It is the third most-produced type of plastic in the world after polyethylene and polypropylene.
About 40 million tons are produced annually. PVC has two main forms: rigid and flexible. It is used in industry, most often for the production of return water pipes.
One of the most popular applications of PVC is the production of advertising graphics and digital printing media. Depending on the complexity of the production technology, it can achieve unique durability and strength and can even be used for the wrapping of cars.
This is one of the most common types of plastics in the world. Due to their relatively high toxicity, more and more governments are turning to laws to reduce and even ban polyvinyl chloride.
4. PET, PETE, PETG Polyethylene terephthalate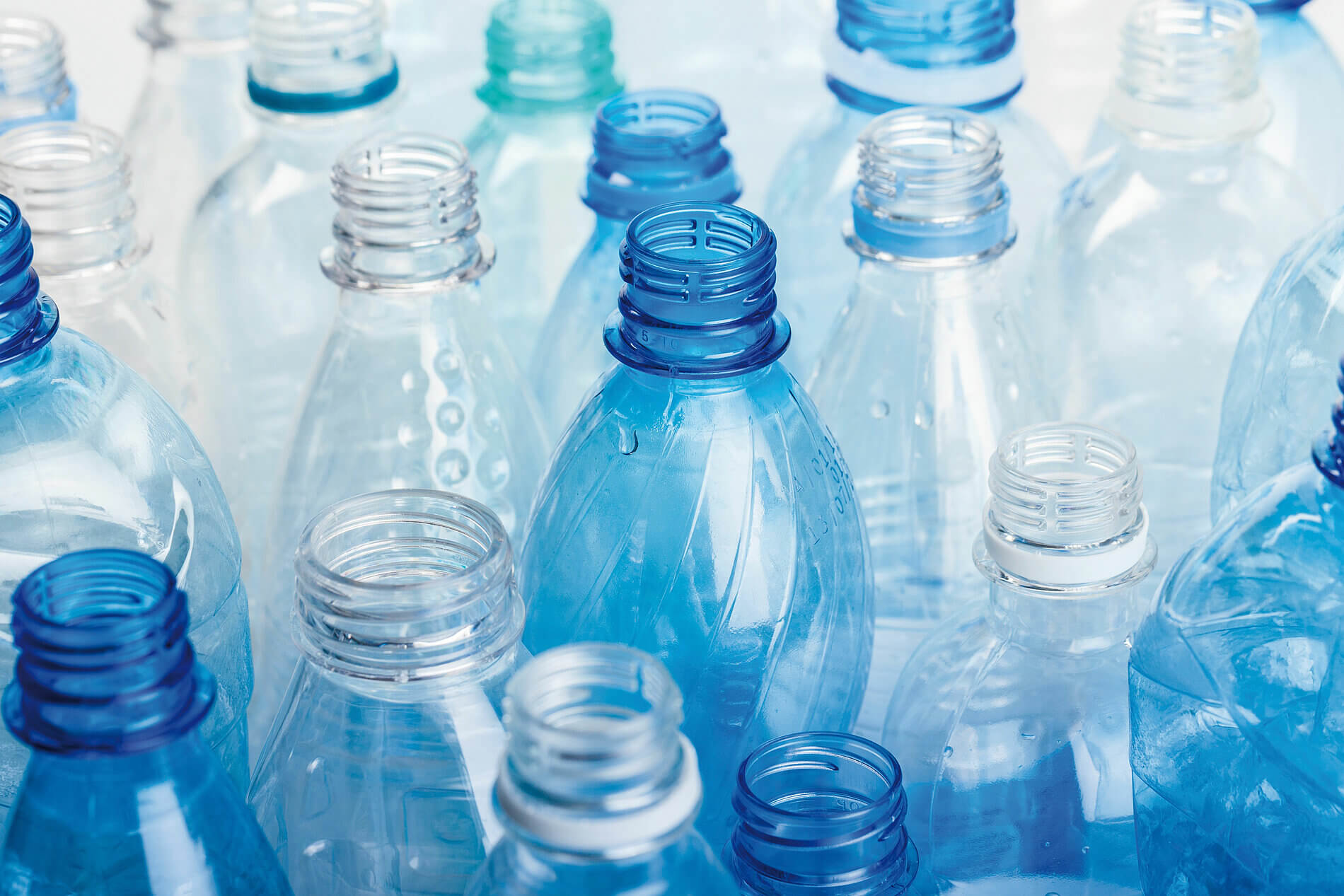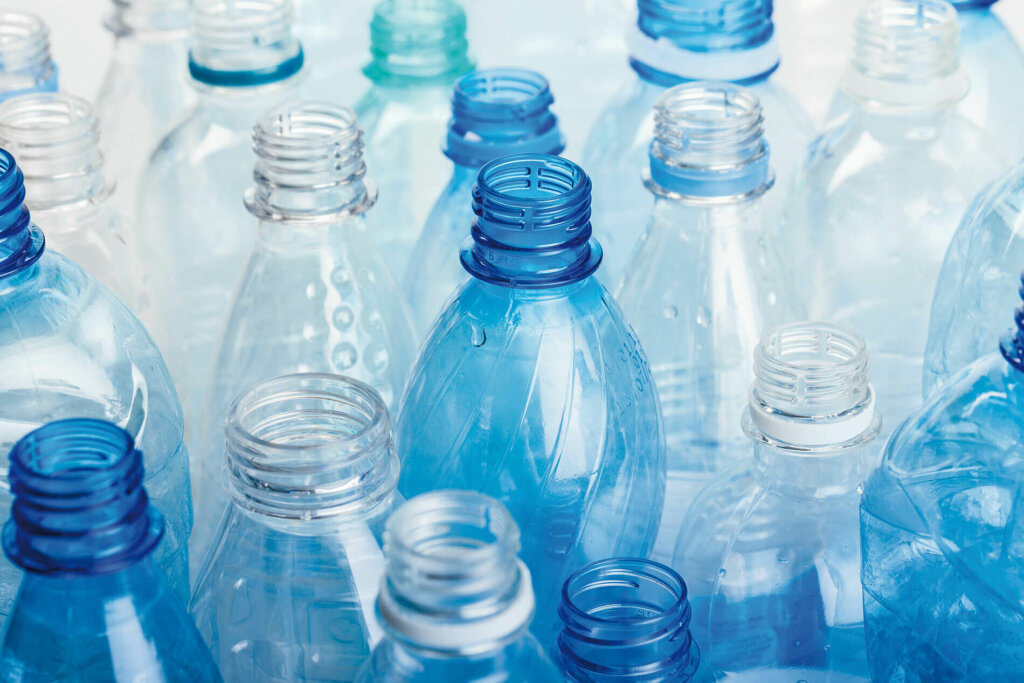 is the most common thermoplastic polymer of the polyester family and is used in man-made fibers for clothing, food, and beverage packaging, thermoforming in production, and in combination with glass fibers for engineering resins.
Most of the world's PET production is for synthetic fibers (over 60%), with bottle production consuming about 30% of world production. In the context of textile production, PET is simply called polyester, while the acronym PET is most often used in connection with packaging.
Polyester accounts for about 18% of world polymer production and is the fourth most produced polymer after polyethylene, polypropylene, and polyvinyl chloride.
5. PC Polycarbonate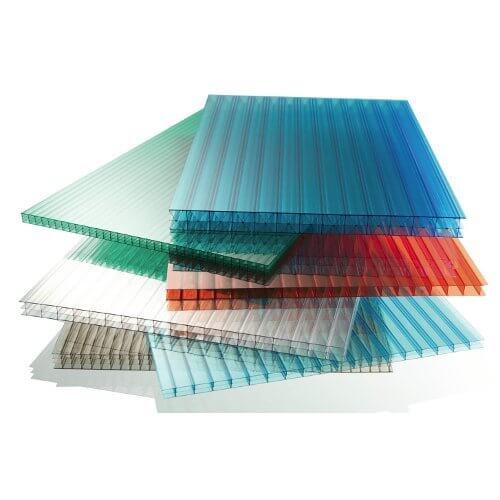 is a group of thermoplastic polymers. Polycarbonate is a transparent plastic, which, although commercially available in different colors, the raw material allows internal light transmission in almost the same capacity as glass. Has high impact resistance and external influences. It does not change from the weather, as it has a special UV-protective layer.
It is used for the manufacture of sunglasses, lenses, goggles, masks, and police equipment, windshields for motorcycles, ATVs, golf carts, and small planes and helicopters. It is also used in the glazing of skyscrapers because the layer of air enclosed between the layers of cellular polycarbonate is an excellent thermal insulator. Even the thinnest panels with a thickness of 4 mm are twice the degree of thermal insulation in ordinary glazing. This achieves about 30% energy savings.
It is more flexible and tough than polymethyl methacrylate and can cover surfaces with a complex geometric shape. Thanks to the elastic connections, the polycarbonate can be bent even in the cold state and this does not affect the strength of the sheet.
Polycarbonate is fireproof. It stops the spread of fire and in case of thermal destruction does not pose a danger to life. This means that its combustion is not accompanied by the release of harmful substances, as in other types of plastics, ie. it is environmentally safe. Cellular polycarbonate is hygroscopic, which means that it absorbs water.
6. ABS Acrylonitrile butadiene styrene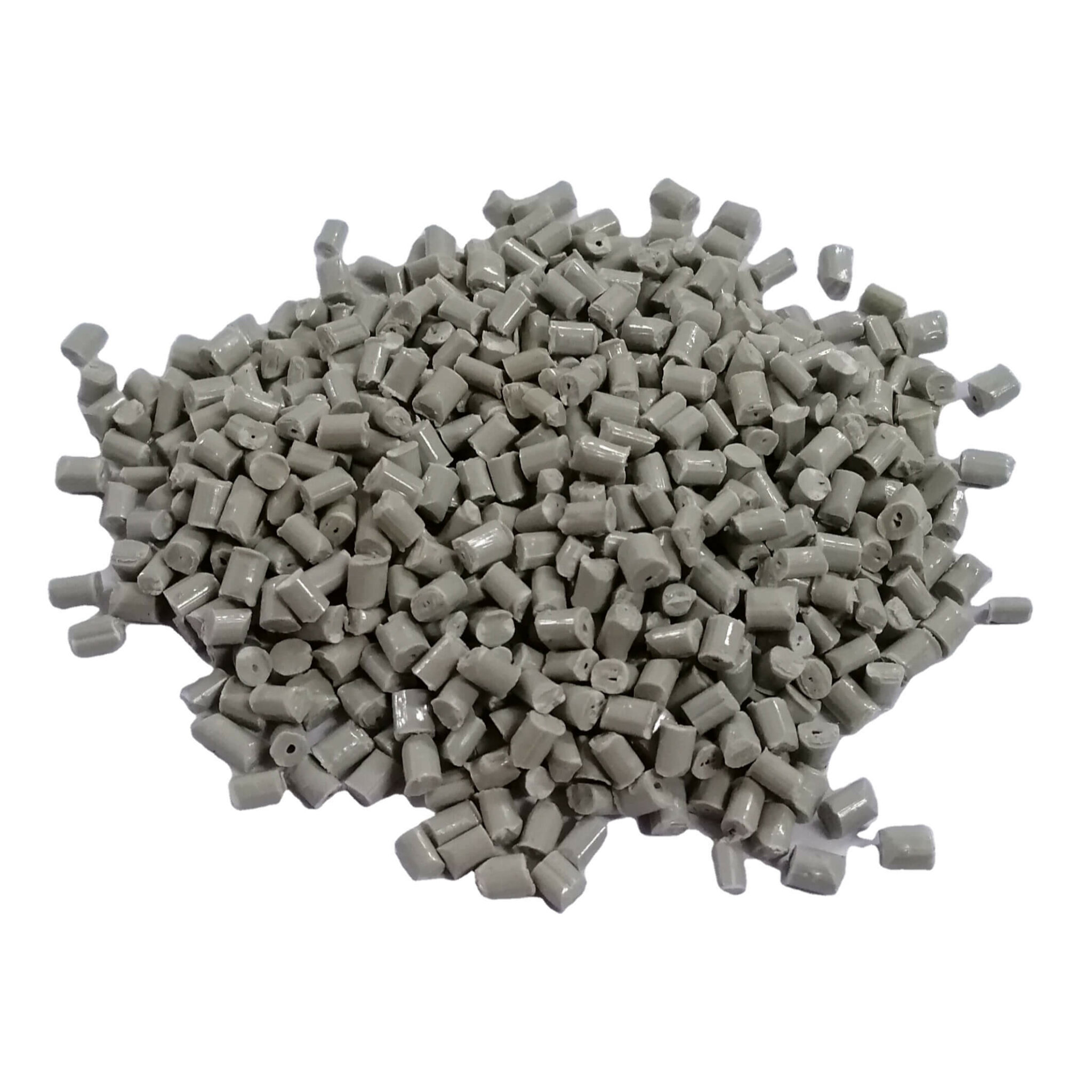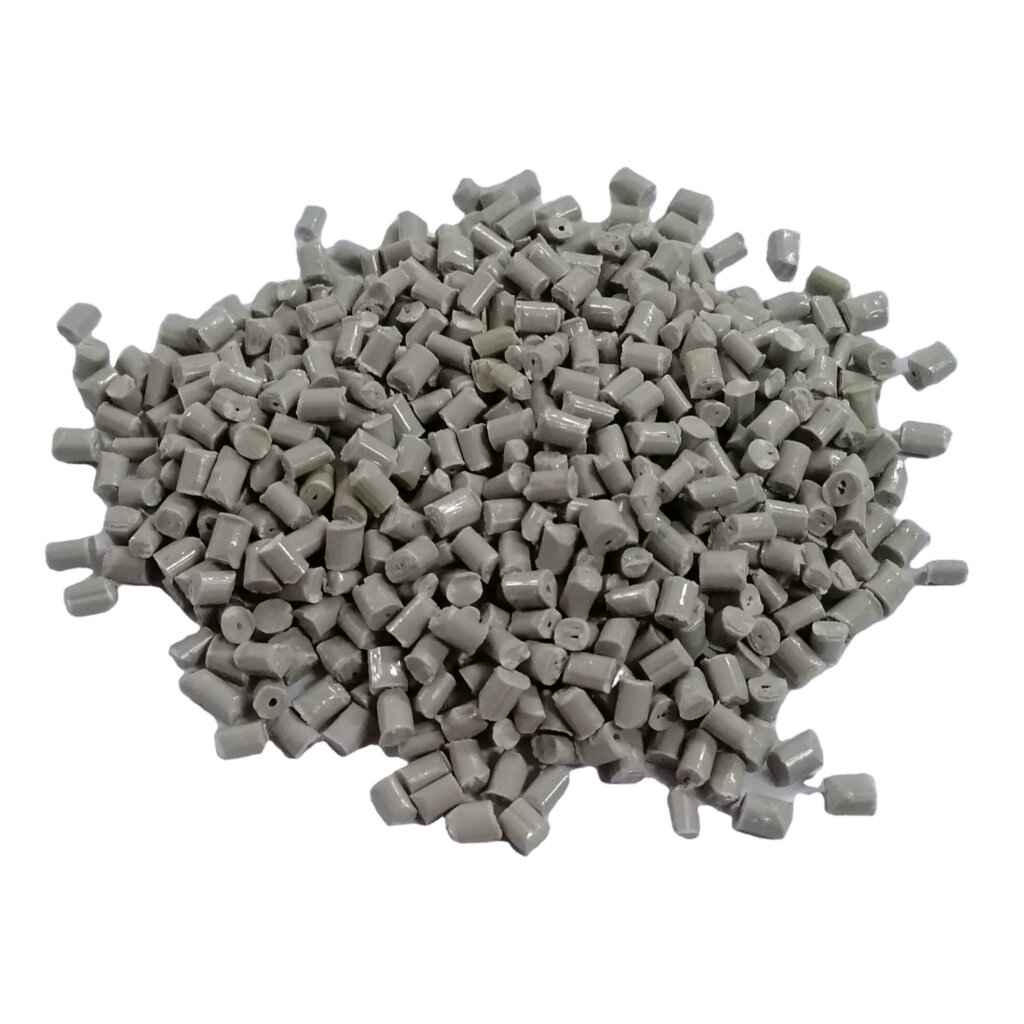 is a widespread impact-resistant thermoplastic used for the production of light solid products, such as pipes, children's constructors, computer boxes, monitors, printers, and food containers (eg yogurt containers). It is a copolymer formed by the polymerization of styrene and acrylonitrile in the presence of polybutadiene.
Due to its high strength and relatively low cost, it is one of the most used materials for the production of automotive parts.
Some types of ABS can break down under the influence of sunlight. This is one of the most extensive and costly withdrawals from the car market in US history.
7. PS Polystyrene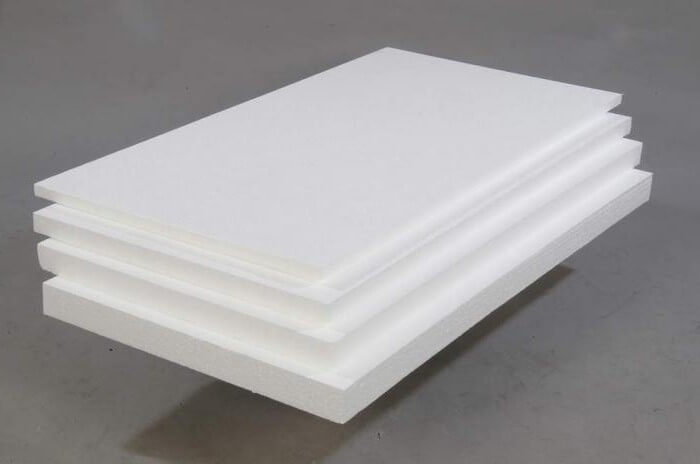 is an absolutely transparent plastic, known to most people as white styrofoam, which is also used for thermal insulation. Expanded polystyrene (EPS) is widespread in Europe. It is also known as styrofoam, facade styrofoam and others – it is a mixture of about 5% polystyrene and 95% air.
The other variety is extruded polystyrene (XPS) under the trademark Styrofoam (Dow Chemical). In the United States, this name has been applied to every type of polystyrene. The Schmidt Holding (Austria) brand is Austroterm for EPS and XPS. The brands of the Greek company "Fibran" are Fibran for XPS and Izolmak-fibran (MK) Termopor for EPS. The brand of the German company BASF is Styrodur for XPS.
It is characterized by its low deformability, which can be cast into shapes with fine details. It is also used to make school materials, such as plastic cups, small transparent boxes, lines, and other geometric accessories. A thin layer of clear polystyrene is often used as a standard in infrared spectroscopy.
8. PP Polypropylene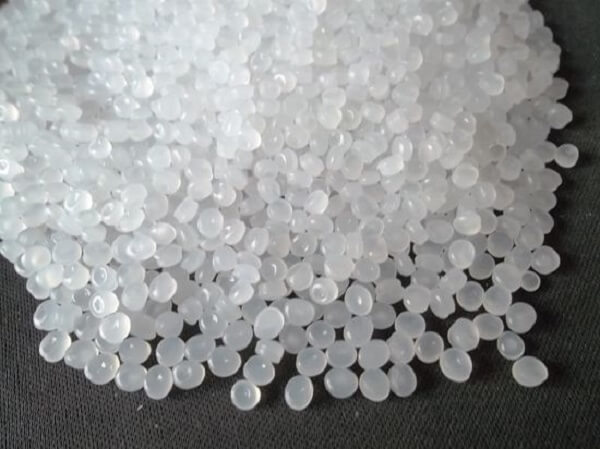 is also known as polypropene, is a thermoplastic polymer that has a wide range of applications. It is an opaque, elastic, heat-resistant plastic that is used to make heat-resistant plastic cups.
It acts as a good sealant and is used to make caps. Its properties are similar to those of polyethylene, but it is slightly harder and more resistant to heat. It is a white, rough material and has high chemical resistance.
Polypropylene is the second most-produced plastic in the world (after polyethylene) and is often used to make packaging. In 2013, the world market for polypropylene amounted to about 55 million tons.
Extremely popular for making packaging – from bags to paint tanks and glues.
9. PTFE Polytetrafluoroethylene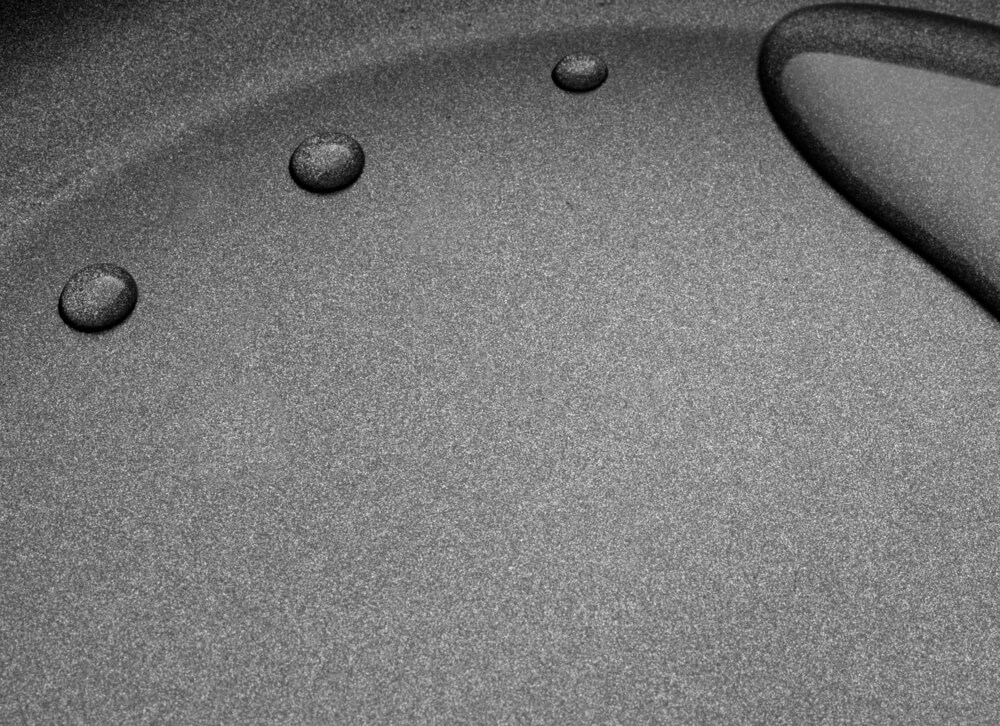 is known as Teflon. Known mainly for its extremely low coefficient of friction and high melting point. Nowadays it is used as a sealing film on gas and water pipes, as well as for kitchen utensils and accessories. Non-stick Teflon coatings on pans, trays, pots, etc. emit toxic gases when overheated, which can be deadly to birds and cause human health problems.
Due to its extremely low surface energy, Teflon is widely used in industry. All parts that should have almost no friction are made of Teflon.
As almost nothing sticks to Teflon, it is very popular in the food industry – cutting boards, boxes, and all kinds of parts can be easily and quickly cleaned and used with the next batch.
10. PA Polyamide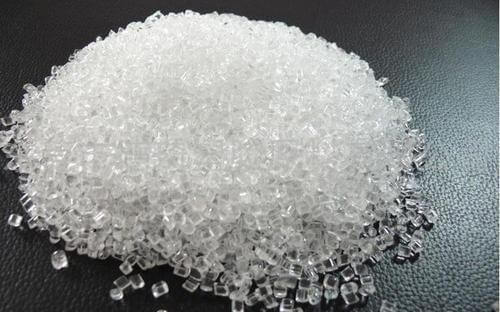 is known as nylon. A type of plastic invented in 1939. Thermoplastic material with a high melting point, high strength, and low wear. The main benefit of polyamide fabric is its elasticity and softness. As a textile, it does not effectively retain heat or extract moisture.
It is most widely used to create thin women's socks, leggings, and yoga clothes. Beyond the world of clothing, a surprising number of consumer goods are produced with polyamides: various car parts, toothbrushes, hair combs, firearm components, and various types of food packaging.
It is also used for drawing threads, insulation, as well as for making parachute silk.
11. Bakelite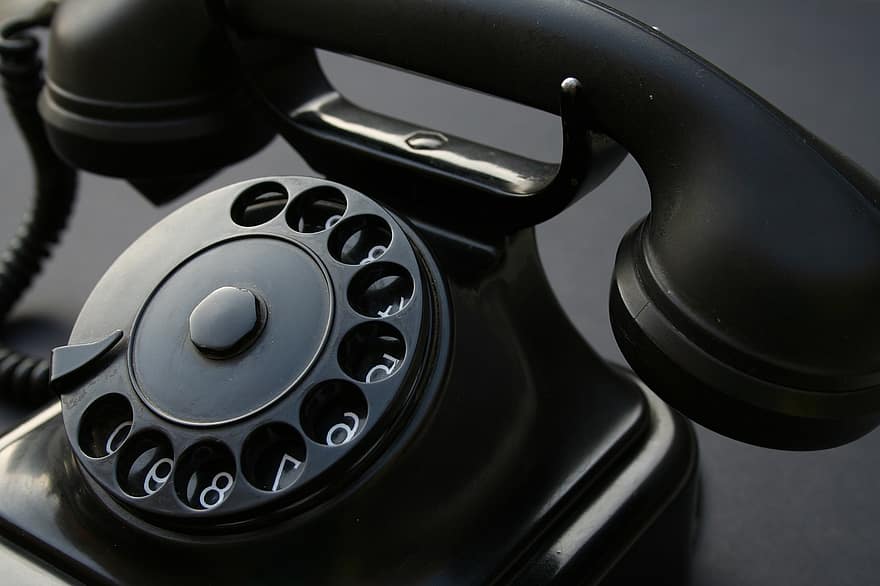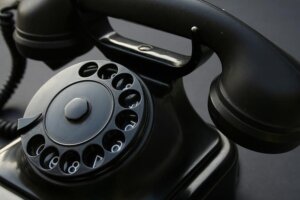 is the first synthetic plastic, first invented in 1907. The creation of synthetic plastic is revolutionary because of its electrical conductivity and heat resistance in electrical insulators, radio and telephone covers, and a variety of products such as kitchen utensils, jewelry, tubular walls, toys, and firearms. It can be molded very quickly, reducing production time. The molds are smooth, retain their shape, and are resistant to heat, scratches, and destructive solvents. It is also valuable for its low electrical conductivity. It is not elastic. When rubbed or burned, bakelite has a specific, sharp, unpleasant-sweet, or fishy odor.
Bakelite was very common in the mid-20th century. It has recently been replaced by newer, more modern types of plastics. Recently, it has become fashionable again with the return of vintage design.
12. Polyisoprene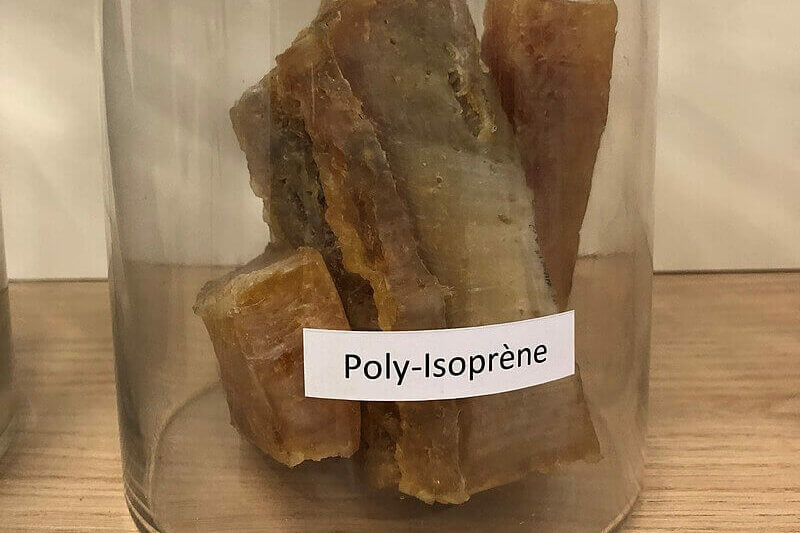 is a highly elastic polymer obtained from the sap of special plants or synthesized artificially. Rubber is natural and synthetic, and due to their similar properties, they are successfully mixed for the purposes of various tire industries. Synthetic rubber is a polymer.
The term "rubber" comes from two words in the language of the Indians inhabiting the shores of the Amazon: "kau" – a tree, "uchu" – cries, flows. Rubber is the sap of the hevea tree, the first and most important rubber plant.
Natural rubber after vulcanization has valuable properties, but its yield is limited. To meet the growing consumption of rubber, artificial polymers have been synthesized from petroleum products that have similar characteristics to natural rubber.