Description
3M Low Friction Sleeve SA-1
3M Low Friction Sleeve is designed for 3M PA1-B и 3М PA1-G squeegees. It provides a scratch-free film application. 3M Low Friction Sleeve SA-1 is made from coated paper – Tyvek, which has great strength and low friction. Thanks to its structure, the 3M Low Friction Sleeve SA-1 allows you to have perfectly smooth surfaces, without cuts or stains. At the same time, it prolongs the life of the squeegee and improves its sliding properties.
The package consists of 5 pcs.
Applications of 3M Low Friction Sleeve SA-1
The Low Friction Sleeves are used with all types of film. They are an absolute must-have when you use textured films.
carbon films (textured)
DI-NOC films (textures)
graphic print films
clear view films
window films
and many more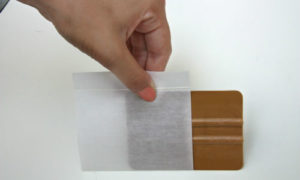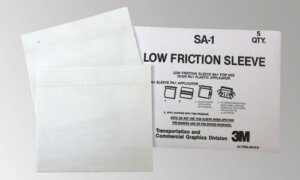 During applications, the entire surface of the Low Friction Sleeve is being used.
How does it work?
Make one swift move over the squeegee every 5-6 mm until the surface of the 3M Low Friction Sleeve SA-1 wears-out.