Description
3M VHB 4614F High Temperature tape for Metalworking, Signage, Transportation
| | |
| --- | --- |
| Holding Power | ✚ |
| Temperature and Solvent Resistance | ✚✚✚ |
| Number of Steps to Apply and Ease of Application | ✚✚✚ |
| Rate of Strength Build | ✚✚ |
| Aesthetics | ✚✚✚ |
| Speed and Convenience of Application | ✚✚✚ |
| Repositionability During Application | ✚✚ |
3M VHB 4614F is a High Grade Double Coated Foam Tape specially produced for high temperature applications. This tape has a clear foam carrier with acrylic adhesive, coated with white polyethylene liner (total thickness – 0.8 mm). 3M VHB 4614F high temperature tape is very resistable and elastic tape which has excellent shear and peel strength.
This 3M high temperature tape is designed to bond dissimilar materials. Because of its clear color it is a perfect bonding solution for transparent materials in such applications as commercial signage or glass bonding. 3M VHB 4614F double coated foam tape is suitable for outdoor usage.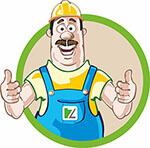 ---
See also 3M VHB 4611F High Grade Double Coated Tape.
Learn more about 3M VHB Tapes on 3M website.
---
Bonds all these materials
painted wood
polycarbonate
Applications of High temperature tape 3M VHB 4614F
glass showcases
plastic products
illuminated channel letters
Advantages of High temperature tape 3M VHB 4614F
High vibrance resistance
Extremely strength bond
Long term durability трайност for outdoor usage
High temperature resistance
Absolutely clear bonding of transparent materials
Before bonding, clean the surfaces with 50:50 mixture of isopropyl alcohol and water. Best bonding temperatures of this tape is between 21°C to 38°C. It is not recommended to be bonded at temperatures below 10°C.