Description
3M 9086 Tape for a wide range of applications
| | |
| --- | --- |
| Shear and Peel Strength | ✚ |
| Temperature and Solvent Resistance | ✚✚ |
| Number of Steps to Apply and Ease of Application | ✚✚✚ |
| Rate of Strength Build | ✚✚✚ |
| Aesthetics | ✚✚✚ |
| Repositionability During Application | ✚✚ |
3M 9086 tape is a thin (0.19mm), clear color double-sided tape for universal usage. It has a high quality acrylic adhesive – 3M 375 Adhesive that provides high initial tack, excellent peel and shear performance. This double-sided tape has a glassine paper liner 3M black logo branded which provides a quick and easy release during application. Its tissue carrier is conformable that helps tearing by hand very fast.
3M 9086 Tape ensures high bond strength, peel and shear performance, so it is really versatile tape for many applications.
Double-sided tape 3M 9086 is UV, temperature and solvent resistance. It can be used for bonding low surface energy materials as vinyl, ABS, polycarbonate, polyethylene, polypropylene. Also 3M 9086 tape provides good adhesion to high surface energy materials as metals, wood, glass and so on. It provides a good wet-out regardless of whether the surface is smooth, rough or textured, so 3M 9086 tape bonds all these substrates with a perfect sturdiness. 3M 9086 High Performance Tape is suitable to use in many industries as Advertising, Furniture, Electronics, Metal fabrication, Sporting equipment.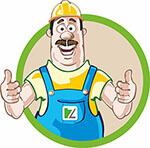 ---
See also Double-sided tape 3M 9088.
Learn more about 3M Double sided tapes on 3M website.
---
Bonds dissimilar materials
vinyl
metal
LSE and HSE plastics
glass
ceramics
painted and unpainted surfaces
composites

lacquered wood
Applications of 3M 9086 Double-sided Tape
Advertising Totems
POP Displays
Metal fabrication
Blister packs
Sporting equipment
Nameplates and Signs
Furniture trim
Advantages of 3M 9086 Tape
Solvent resistance
Bonding strength
High temperature resistance
Fast and easy to use
High durability
Stick to a wide range of materials
UV resistance
Clean well the surfaces and dry them out before bonding. Use 3M 9086 tape to bond in temperatures above 10°C. The perfect bonding temperature is between 21°C и 38°C for high strength and durability. The upper limit of temperature resistance is 121°C.